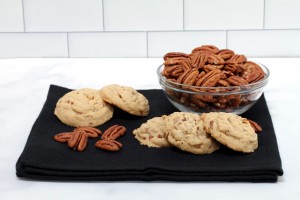 1 cup butter
½ cup sugar
¼ cup brown sugar
1 large egg
1 tsp vanilla***
¼ tsp salt
¾ cup chopped pecans***
2 cups flour
Cream butter until soft, add sugars and blend until fluffy. Mix in egg and vanilla, then blend in pecans.
Gently mix in the flour. Remove dough from bowl and roll into a log and wrap in wax paper or plastic wrap. Refrigerate for at least 4 hours or overnight.
Preheat oven to 350 degrees. Remove dough from refrigerator and unwrap. Slice into ½ inch slices. Place on ungreased cookie sheet and bake for 12-15 minutes until golden brown.
Remove from oven and cool slightly, then transfer cookies to cooling rack.
*** These items can be purchased at The Pecan House Country Store
---
Related Products