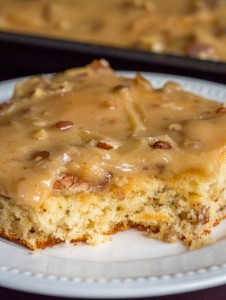 •Cake:
•2 1/2 cups all-purpose flour
•1 cup sugar
•1 cup brown sugar
•2 cups pecans, medium chopped
•1 cup (2 sticks) unsalted butter, room temperature
•1 cup milk
•3 eggs
•1 teaspoon vanilla extract
•2 teaspoons baking powder
•1/4 teaspoon salt
•Glaze:
•1 cup (2 sticks) unsalted butter, melted
•1/2 cup heavy cream
•2 cups powdered sugar
•1 cup brown sugar
•2 teaspoons vanilla extract
•pecans, optional
1.Preheat oven to 400º F and lightly grease a large sheet cake pan with butter or non-stick spray.
2.In a medium bowl, sift together flour, baking powder and salt, and set aside.
3.Cream together butter, sugar and brown sugar in a large bowl or mixer for 3-4 minutes, or until light and fluffy.
4.One at a time, beat in eggs, waiting until each is incorporated before adding the next, then add vanilla extract.
5.Starting and ending with the dry ingredients, alternate between mixing in the flour mixture and milk. Be careful not to overmix.
6.If using, fold in chopped pecans.
7.Pour batter into greased cake pan and place in oven. Bake for 20 minutes, or until toothpick inserted in center comes out clean. Remove from oven and let cool 10 minutes.
8.While cake cools, prepare frosting. Combine butter, heavy cream and brown sugar in a medium saucepan over medium-high heat. Whisk everything together and bring to a boil, then stir in vanilla extract and remove from heat.
9.Stir in powdered sugar and whisk until smooth, then pour frosting over cooling cake. Optional: fold pecans into frosting before pouring, or sprinkle over the top.
---
Related Products