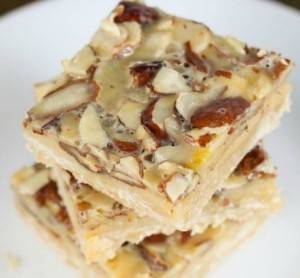 Crust
2 cups flour
1/4 cup powdered sugar
1 cup butter softened
Filling
1 egg
1 14 oz. can sweetened condensed milk
1 cup almonds sliced ***
1 cup pecan pieces ***
1 teaspoon vanilla ***
Instructions
Preheat oven to 350 degrees.
Mix the crust ingredients until pebble like.
Spray a 9x13 inch pan with non-stick vegetable spray.
Spread the crust evenly over the pan and pat down evenly.
Bake for 15 to 20 minutes (you only want to partially bake the crust- so remove before it starts to turn brown)
Whisk the egg and condensed milk together.
Add remaining filling ingredients and stir together.
Pour filling over hot crust and bake for 20 mins or until the edges start to turn golden brown.
Cool and cut to serve.
***Ingredients can be purchased at The Pecan House Country Store
---
Related Products