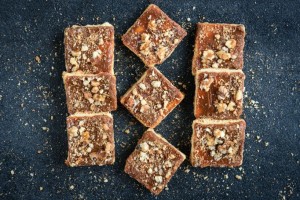 Crust:
3 Cups Flour
¾ Cup Brown Sugar
1 ½ Cups Butter, room temperature
Heat Oven to 400◦. Combine all ingredients and blend until crumbly. Reserve 2 cups for Crumbs, press remaining into a 15x10 jelly roll pan, slightly pressing up the sides. Bake for 10 minutes.
Filling:
¾ Cup Brown Sugar
1 ½ Cups Corn Syrup or Pecan Syrup*
1 Cup Milk
1/3 Cup Melted Butter
1 Tsp. Vanilla*
4 Eggs*
1 ½ Cups Chopped Pecans*
Combine ¼ cup of Crumbs and all additional ingredients except pecans. Mix well, then stir in pecans. Pour over prebaked crust and bake for 10 minutes. Reduce oven to 350◦, sprinkle remaining 1 ¾ cups of crumbs over filling. Bake for 20-25 minutes or until filling is set and Crumbs are golden brown. Let cool before cutting. Can be served while still slightly warm and top with whipped cream or ice cream.
All items with * can be purchased at The Pecan House Country Store!
---
Related Products