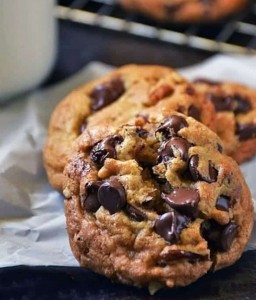 Ingredients
2 tablespoons unsalted butter
1 cup chopped pecans
1 cup unsalted butter melted
2.5 cups bread flour
1 teaspoon kosher salt
1 teaspoon baking soda
4.5 tablespoons sugar
1 cup light brown sugar
1 large egg
1 large egg yolk
2 tablespoons buttermilk can substitute whole milk
1.5 teaspoons vanilla extract
1 cup semi-sweet chocolate chips
Instructions
Melt 2 tablespoons butter in a small skillet over medium heat and add 1 cup chopped pecans. Cook about 5 minutes until the pecans are toasted and fragrant. Remove from heat and set aside.
In a large mixing bowl, add 2.5 cups bread flour, 1 teaspoon salt, and 1 teaspoon baking soda. Whisk to combine and set aside.
Melt 2 sticks of butter on the stove-top or in the microwave. Combine 2 sticks melted butter, 4.5 tablespoons sugar, and 1 cup packed brown sugar in the bowl of a food processor and pulse until mixed well. Or use a mixer.
With the food processor running, add in 1 large egg, 1 large egg yolk, 2 tablespoons buttermilk, and 1.5 teaspoons vanilla. Turn off food processor after last addition.
Add the sugar/butter mixture to the flour mixture and stir by hand just until combined.old in 1 cup buttered pecans and 1 cup semi-sweet chocolate chips until incorporated throughout the dough.
Cover and chill dough in the fridge at least an hour, but I recommend chilling overnight for best results.
When ready to bake your cookies, preheat the oven to 375 degrees F. Using a cookie dough scoop or a full tablespoon, scoop dough onto a parchment lined baking sheet. Bake in oven for 9-11 minutes or until your cookies are golden brown. Let cool on tray for a minute or 2 and then transfer to a wire cooling rack. Enjoy!
---
Related Products